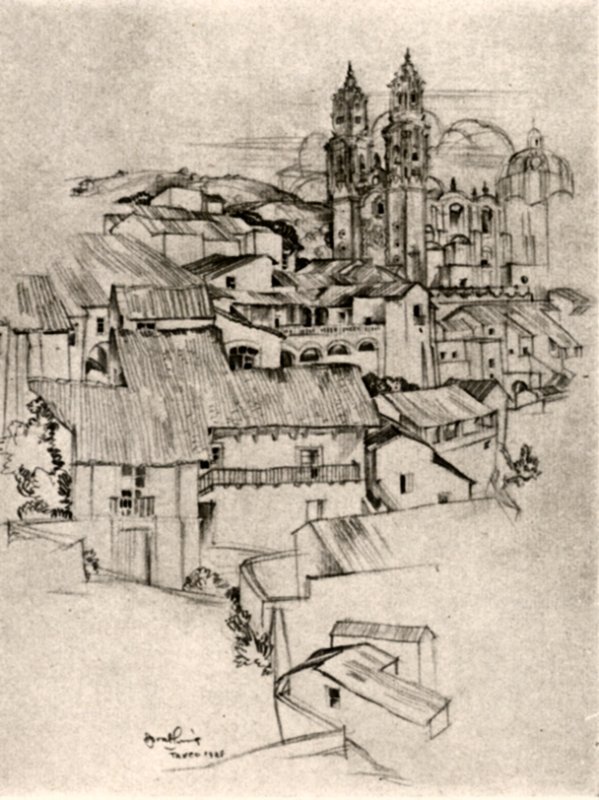 Historical Perspectives
In an effort to try to provide some context about Spratling's world in Taxco during the 1930s, 40s, 50s, and 60s, we are providing mini accounts written by people who knew Bill Spratling or who were actually a part of the "Taxco world" of that time. The drawing on the left is one Spratling did in 1929 and is entitled "Taxco and its Parroquia"
---
Wings

by Verónica Albin
"It's a pterodactyl with a fat hiny, Mommy" shouted my four year-old Axel when I told him that the 1930's Cessna on the photograph was called the 'Pájaro nalgón.' His paternal great-grandfather, Moisés Sáenz, stood proudly next to it wearing his aviator hat. When 20 years later my son and daughter asked to see the photograph again, my father responded that it was long discarded in one of my mother's 'nesting impulses.'
"What is it with wings and this family?" my children asked me later. I said I had no idea what they were talking about. "Cessnas, nesting-impulses, and bats, for God's sake! come on, Mom, this is totally weird."
I hadn't realized that as my children grew up they were regaled with stories - pretty ordinary ones as far as I was concerned - about the days I had spent as a child at my parents' beach house Quinta los murciélagos. It was then that I figured out for the first time that Los murciélagos, the 'Bat Villa' - that haven on the water on the coast of Guerrero - was seen by all but us who dwelled in it, as a ship of fools. And it was in such a ship, not surprisingly, that Bill Spratling and his Cessna occasionally came to roost.
My Grandpa, my Dad, and Bill used their Cessnas to scare the living daylights out of anyone who climbed on board, but Robin and Felicity Thomas used theirs as a business: they flew dead Americans for a living. Their company Sarcófagos Aéreos, S.A. prospered during the high seasons and tides, and floundered during the low. I have no idea how they landed at our beach house in Acapulco in the late 50s, but they did. After all, it was common for strange birds to land and take-off from the Bat Villa all the time.
The house got its name from the hundreds of bats that flew in at dusk from La Roqueta, a beautiful island right across the channel connecting the Acapulco Bay to Boca Chica and Boca Grande, the two main gateways to the Pacific Ocean. The bats would glide in at dusk and hang up-side-down from the wooden beams of the Quinta to spend the night; they would depart at dawn. So did the French engineer named Michel Kuhn - who chose as his perch the master beam across the living room - and whom we, the children, feared because he dined on our fish bait decades before sushi was fashionable.
Phyllias LaLanne showed great contempt for the French engineer perched on the master beam. Unlike the 'Frog,' as he called him under his breath, Phylllias was a vegetarian who consumed only cucurbits, having learned the great virtues of this diet during his time in India as an officer in the Raj. He supplemented his diet of watermelon rinds with an English fortifier called Whitavim that, when mixed with Gin, had a much more nourishing effect - pour me equal parts, sweet child. He, too, refused a bedroom, and preferred to show his mettle by camping out in our gardens sheltered by an 'excellent' standard-issue pre-partition British government tent. He was, of course, a naturalist shaped and molded by Darwinian shoes. As such, he would wake up at dawn, dress in his white army uniform and Saharakopf, and lacking a bugle, would blow on a conch-shell to wake up the children. With sleep on our eyes - but with smiles the size of corn-on-the-cob - we would follow our pied piper of Guerrero to harvest the ripest mangoes, persimmons, almonds, and papayas from the orchard. Afternoons were joyfully spent stringing and hanging the ripened fruits from the wooden beams throughout the old house for the bats to break their fast at dawn.
But splendid breakfasts were not only reserved for those winged creatures. There was another strange bird that often flew to Bat Villa on his Cessna. He came to us with buckets full of fresh frogs for a delightful meal for all. "Bonifacia, buona faccia, bella faz, bello rostro, beautiful-faced woman! I am here! Where art thou?" he would shout in order to have Bonifacia Nava, the cook, come out and shower Tata Beel with hugs and kisses. And so, with a muddy splash, would land Bill Spratling at Los murciélagos.
"You are NOT taking the children up for a spin" my Mom cried adamantly. "Bill," she earnestly pronounced, "I made my husband give up his Cessna when I got pregnant. After I had my first child I trusted you and flew with you at the wheel, or stern, or cockpit, or whatever the blasted thing is called, to go see that turquoise mask in the mountains...and you purposefully flew the damn bird up-side-down, like the bats on the beams at Los murciélagos, and I peed in my pants. The children stay put. I stay put. My husband stays put. You go on and kill yourself over the Roqueta if you so damn please, but you are not taking any of us with you."
"Right you are, deah Jacqueline," Phyllias rallied in my Mom's support. "Theeze Ahmehricans are nought to be trustid. The only claim to fame William has is that he is willing to eat frogs. God help us; he is no different from the Frog on the beam eating the children's bait. We ought to teach this William chap the difference between a 'frog' with a lowercase 'f' and one with an uppercase 'F.' If he were to dine on the uppercase ones, he would then, perhaps, join the ranks of civilized man. Good thing is, my dear, should anything happen, there's always England to rely upon. Robin and Felicity will give their best in the name of the Crown to ensure a dignified transport and I - in the name of the British government - promise to give all those who perish at the hands of this barbarian, and even the barbarian himself if he insists on defying the laws of nature, an honorable burial, in the full glory of the British tradition. Hail, hail. 'Nough said, my deah."
The phone rang on a gray afternoon at my parents' Mexico City home. I must have been about five or six, so I don't know who it was that called. All I remember is my mother hanging up, in tears, and calling my father at work. "That fool," my mother said, "he took off from Iguala and crashed somewhere in the Sierra. Not a trace of him or the plane." And I wept, and my mother mourned, and the bells of Santa Prisca tolled, and then Bill strolled back into Taxco a month later, torn and tattered, but whole.
But my mother was wrong. It was not the skies who were to claim Spratling, but a felled tree on the road. On August 7, 1967 the bells of Santa Prisca finally tolled for Bill. At the funeral, 'la muda,' an Indian woman from Iguala who sold pre-Columbian art both to Bill and my parents, took my hand and my mother's and placed them on Bill's feet. She then said "para que tenga buen camino" so he may have an easy road ahead. Phyllias had passed on and could not say his farewells to 'that William chap,' and Robin and Felicity were not there to ensure a 'dignified transport,' but we all knew that Bill's spirit and legacy had wings of their own and soared without the need of a Cessna. I miss the rascal.
---
A Table in Taxco
by Verónica Sáenz Albin
Amidst the fires of Don Guillermo's workshop stumbled a boy with eyes the color of tamarind seeds who dreamed of ladling caldos and pipianes, not streams of liquid silver, into a myriad beautiful molds. But it wasn't so much that Toño wanted to become a cook, as much as Rancho Viejo wanted to become a kitchen.
The orchard's narrow paths were pungent with the perfumes of citrus; the trees pregnant with soursop, mango, and guava; the fruit of the tamarind trees fell into the frog ponds as if ready to be steeped for a refreshing drink; delicious purslane filled the cracks of the reservoir; huauhzontle and rosemaries hugged the masonry walls of the old house, and as the banana and plantain trees yielded their fruit, their leaves, fresh and pliant, were ready for making tamales. All of Rancho Viejo was begging for a cook and Toño heard its call.
Early one morning Toño found me playing by the frog pond. "Don Guillermo," he whispered while pointing his index finger to his temple and moving it in circles as we sipped our freshly squeezed jugo de lima, "está un poco loco. He has this crazy idea and wants me to cook those frogs for lunch." And so it was that I had my first of many gourmet meals at Bill's table: Frog legs à la Toño and "airbread," or pan de puro aire, as Toño would call Bill's sinful popovers, to soak up the cuisses de grenouille's garlicky Provençal sauce.
Bill's table out on the porch was nothing if not humble. It was pockmarked, rickety, and a little unsteady. It was the sort of table one sees in Mexico all the time: downright ordinary. It was rectangular and sat a maximum of 8 people on equally unpretentious (and uncomfortable) chairs.
Then one day, some twenty years after Bill's death, I was preparing a talk on contemporary Mexican painters for an art history class when in the slide library at the university I came across a photograph of David Alfaro Siqueiros, Diego Rivera and André Breton. I checked it out along with several other slides depicting the work of Mexico's great muralists and painters. When I gave my talk and saw the slide blown up, I started stuttering. There they were, these three great men, sitting at the pockmarked, rickety and unsteady table I knew so well and had taken for granted. I realized immediately that I was but a child when I knew Bill, and obviously could not tell an ordinary table from the extraordinary one that he had set out on his porch at Rancho Viejo.

---