The History of Spratling Silver

William Spratling quickly made many friends in the literary, political and artistic worlds of Mexico. The summers he spent in Mexico during 1926, 1927, and 1928 enabled him to establish many contacts among the then current "movers and shakers." Spratling moved to Mexico in 1929 to write his book Little Mexico. When Dwight Morrow, U.S. Ambassador to Mexico mentioned to Spratling that Morrow wanted to make a personal "non political" gift to the city of Cuernavaca, Spratling suggested that his friend Diego Rivera might be persuaded to create frescoes in the Cortes Palace in Cuernavaca. For helping to arrange this transaction, Spratling received two thousand dollars, which he immediately used to purchase a house in the Calle de las Delicias in Taxco.
Early in 1931, Dwight Morrow remarked to Spratling, "What a pity, Bill, that of all the thousands of tons of silver sent back from Taxco to the old world over the centuries, that none of this ever stayed here nor was utilized to create an industry or economy for Taxco." New information suggests that, contrary to Spratling's account in his autobiography, File on Spratling, his silver designs were not the major offering in his earliest shop, La Aduana. (Throughout his life, Spratling had financial crises, and at this period, in 1931, his need to create income to cover his minimal living expenses was serious.) La Aduana opened June 27, 1931 and initially the main focus was probably tin ware, copper, weavings and furniture, and to a slighly lesser extent, silver - all designed by Spratling. Silver jewelry and silver objects designed by Spratling became the primary focus of his shop by 1933. The shop, with its weavers, copper and tin smiths and silversmiths, Spratling later said, was "a four ring circus."
Early designs were taken from pre-Columbian clay seal motifs, as well as from the simple designs of ranch life. Applied circular discs, balls, straps, applied rope designs, and pre-Columbian design elements created a theme for much of the jewelry and objects of this period. Spratling initially used native rosewood, gold, copper, bronze (brass), and occasionally, abalone in combination with silver to create handsome pieces which created a new definition of Mexican silver design.
In 1935, Spratling's success warranted a move to a larger shop near the plaza which he called "Taller de las Delicias." Tourism was expanding and there was widespread enthusiasm for Spratling designs of both jewelry and his hollow ware. People spoke of his recognizable style of "clean designs" and appreciation of Mexican history. He had 120 employees in 1941 and was selling silver not only in Mexico, but also in the U.S. to Neiman-Marcus, Bonwit Teller, and Saks Fifth Avenue as well as others.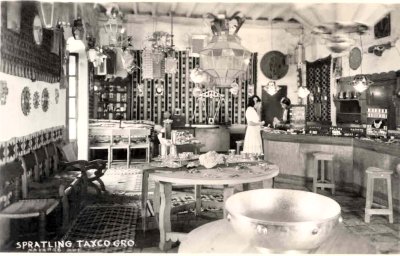 By the late 1930s and early 1940s Spratling added the use of indigenous amethyst and turquoise to complement his silver designs. He also used during the early 1940's, but on a less frequent basis, chalcedony, coral, obsidian and occasionally, tortoise shell. Styles were strong, handsomely executed and were slightly more stylized than the earliest pieces. Spratling continued to use both real and mythical animal depictions in jewelry and hollow ware.
New silversmiths were trained through an apprentice system which Spratling established early in the formation of his shop. Those who showed promise worked under the direction of maestros. Most of the men who later opened their own shops and became very successful designers were trained in the Las Delicias taller.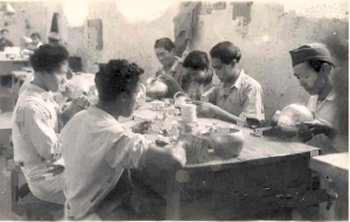 In 1940, Spratling agreed to provide some of his designs for the Silson Company, which would fabricate those designs in silver plate or other non sterling material. The contract with Silson continued for five years, and all such pieces carry a hallmark containing Spratling's familiar printed "WS" surrounded by the smaller words "Spratling of Mexico Silson, Inc."
By this time, some of the young apprentices trained in the Spratling Taller decided to open their own tallers, and did so with Spratling's support. During the Second World War, United States department stores could no longer obtain luxury merchandise from their European sources and so many of them turned to Taxco where they purchased jewelry and silver objects for their customers. Each silvermithing taller was expanding because of the increased demand, and Las Delicias was no exception. Spratling was advised to sell part of his company to outside investors in an effort to raise additional capital for expansion. Spratling did so, but that infusion of capital also brought with it a new set of managers and advisors.
In June 1944, the company - now called Spratling y Artesanos S.A. moved to Hacienda de La
Florida, an abandoned hacienda near the arches at the northern entrance to the town. Spratling had earlier arranged to have a large bronze bell cast, and this new bell was mounted on the roof of the new taller. Approximately 400 workers now were producing Spratling Silver.
Lack of sufficient capital, and the involvement of the new investors caused Spratling to resign from the company in 1945, and soon thereafter, the company dissolved.
After his resignation in July 1945, Spratling moved to a ranch he had purchased several years earlier in Taxco-el-Viejo. For the next several years, Spratling designed no silver except for a small group of designs that he had agreed to provide (and did provide) to Spratling y Artesanos during the fall of 1945.
The U.S. Department of the Interior had talked to Spratling for several years about creating a format to train Alaskan students to design and fabricate silver jewelry, objects and sculpture based on traditional native designs and using indigenous materials. Spratling's plan was finally accepted and Spratling created 200 models for the project. Seven Alaskan students flew to Spratling's ranch in 1949, where for several months, each was trained in the methods that had proven so successful in Mexico. The students returned to Alaska, and a lack of subsequent government support and funding brought rapid closure to this project. Spratling, however, after spending considerable time in Alaska as he researched the Alaskan and North West Coast heritage, came away with new ideas that dramatically influenced his later designs.
Some of the first evidence of this new dimension to Spratling's designs appeared in those pieces marked "Spratling de Mexico." Those Spratling designs were produced at both the Conquistador factory in Mexico City and at Spratling's ranch during 1949 and 1950. (The arrangement with Conquistador was terminated in 1951.) Subsequent designs also carry on this more stylized, streamlined, refined line. The use of shallow, flowing, incised lines, and ebony, azurite, tortoise shell, yellow jasper, rosewood and malachite enhance the reflections, shadows and planes of the silver. Spratling also, during this period, produced ebony and gold jewelry designs. Spratling continued the use of applied silver circles, inset rosewood or ebony circles, stylized animals themes, and other design elements, but always in a simpler, sparer, more distinctive fashion. Throughout Spratling's career, he created custom work for clients. Spratling combined his interest in Pre-Columbian artifacts with his talents as a designer and produced some exceptional pieces of jewelry using Pre-Columbian jade in combination with gold beads.
William Spratling was killed in an automobile accident outside Taxco on August 7, 1967. His ranch, his hallmarks, and all designs were purchased by Mr. Alberto Ulrich whose family continues to produce Spratling designs through the company Sucesores de William Spratling S.A.